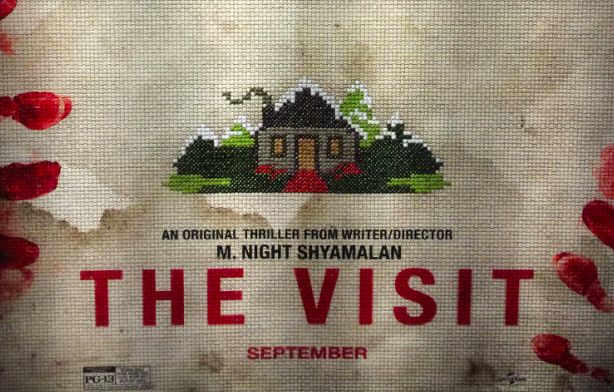 M. Night Shyamalan is back! I know that's something you never thought you'd hear someone say, but it's true. A few months ago, Fox ran a miniseries called Wayward Pines. The mystery/sci-fi show, starring Matthew Dillon, followed a detective who was trying to find his missing, and he himself ends up disappearing along the way. The show has got to be one of my favorite television shows of all time. I wouldn't say it's anything like Six Feet Under or Parenthood, it's not something I can watch over and over again, but it is right up there with Lost. It's creepy, it's surprising, and of course, it has a twist of an ending. I had been wanting to see The Visit since before Wayward Pines was even advertised, but after watching the miniseries, I knew Shyamalan was back.
The filmmaker has gotten a lot of shit over the last few years. The writer/director/producer has made some incredible films. The Sixth Sense, Signs, and Unbreakable are some of the better known and acclaimed films on his resume, but his films like The Happening and Lady in the Water, caused his fan base to drop substantially. If you are one of the many people that have given up on him, give him this one last chance. The Visit is the perfect combination of absolutely hilarious and extremely terrifying.
The horror movie follows siblings as they go to their grandparents to enjoy a week of board games, cookies, and all of the other joyous things children do as they visit their grandma and grandpa. The brother and sister, however, end up getting a week full of craziness and sheer terror. The son, played by Ed Oxenbould, is a young wanna be rapper. Throughout the film, he freestyles about the events going on and almost lightens the movie up. The daughter, played by Olivia DeJonge, is a wanna be filmmaker  and documents her whole journey. The multiple cameras she sets up around the house provides scares like the ones coming from the Paranormal Activity franchise. A camera moves from left to right around the room as you sit there anticipating a scare. Sometimes it happens, sometimes it doesn't. Deanna Dunagan and Peter McRobbie, who play the grandparents, put on quite a performance. They'll make you fear going to your grandparents.
The film really puts Shyamalan back on the map. It, of course, has a twist of an ending, but it's nothing that will make you cringe or wonder what the hell it is that M. Night was thinking. Instead, it will make you happy that you decided to give the horror master one more shot. Now I'm just waiting for the sequel to Unbreakable. One thing at a time.